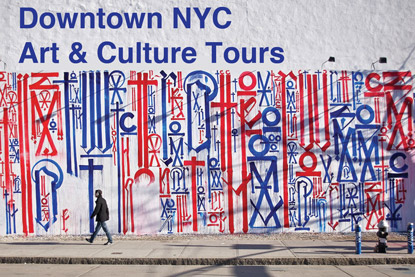 Many artists, filmmakers, musicians, writers, dancers and fashion designers have called Downtown NYC home since the 1940s. Past residents included Robert Rauschenberg, Yoko Ono, Roy Lichtenstein, William S. Burroughs, Mark Rothko, James Rosenquist, Chuck Close, Keith Haring, Jean-Michel Basquiat, Robert Mapplethorpe, Merce Cunningham, Patricia Field, Talking Heads and many others.
Recent decades have transformed Downtown from a gritty slum to contemporary art and cultural district.
We will visit some of the most exciting galleries in the neighborhood and learn about their current exhibits. The tour will also point out important cultural locations including artist studios, graffiti hot spots, DIY music venues, theaters and legendary party locations.
Private tours also available.
Photo by Matthew Kraus. All rights reserved.